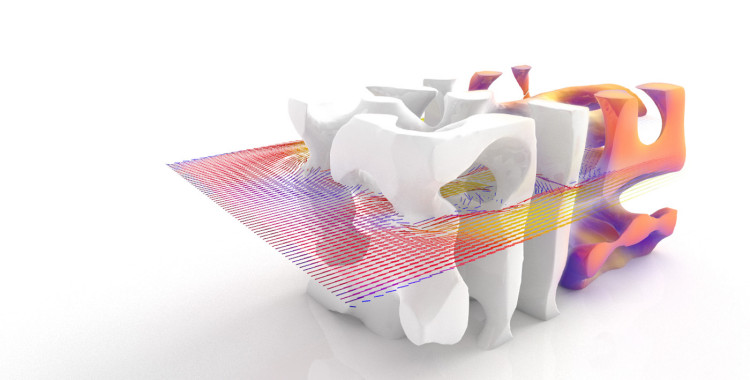 NEXUS – advanced Grasshopper workshop with [uto]
Workshop
Co-de-iT + [uto]
Bologna – Rizoma Architetture – via della Grada, 11
20-22.01.2012
.
Parametric Strategies workshop series
Nexus – advanced grasshopper workshop
Bologna _ 20-22.01.2012
Tutors: [uto] – Thomas Grabner & Ursula Frick
[.] Descrizione:
Il workshop è focalizzato nell'integrazione e correlazione di effetti sinergetici associati alla compresenza simultanea di differenti strumenti di analisi e digital design all'interno di un processo di progettazione in svolgimento.
L'attenzione è rivolta a interfacce semplici da utilizzare, le quali dovrebbero essere utilizzate nelle fasi preliminari del concept design per rispondere ad influenze interne ed esterne in modo intelligente e sostenibile.
I partecipanti utilizzeranno Grasshopper (modellatore parametrico per Rhino): l'uso di questo editor grafico di algoritmi si integra alla perfezione con gli strumenti di modellazione di Rhinoceros 3D espandendo le possibilità di corstruire modelli parametrici altamente complessi. Per generare una complessità simile saranno utilizzati collegamenti live ai diversi programmi elencati di seguito:
. Autodesk Ecotect Analysis via GECO
. FEA software GSA via SSI
Durante questi intensi 3 giorni, i partecipanti impareranno il workflow dei plug-ins con l'aiuto di esempi esplorando una panoramica dei differenti software, le possibilità di testare le performances di un progetto o l'uso di strumenti addizionali non legati ad un singolo sistema (es. accentuazione, formazione, reazione parametrica)
[english text]
The focus of the workshop is to integrate and correlate the synergistic effect associated with simultaneous presence of different digital design- and analysis tools  in an ongoing design process.
The main attention is set on easy to handle interface , which should be used at a early stage of conceptual design to respond to external and internal influences in a intelligent and sustainable way.
Participants will use the software Grasshopper as a parametric modeling plug-in for Rhino. The usage of this graphical algorithm editor tightly integrated with Rhino's 3-D modeling tools open up the possibility to construct highly parametrical complex models. To generate this complexity we will use live linkages to several programs listed below:
. Autodesk Ecotect Analysis via GECO
. FEA software GSA via SSI

In this 3 intense days, the participants should learn the workflow of the plug-ins with the help of examples and get an overview of the different software's, there possibilities for evaluating the performance of a design or the usage of additional tools to be not chained to a single system .
(e.g. parametrical accentuation, parametrical formation, parametrical reaction)
[.] Dettagli :
Istruttori: Thomas Grabner & Ursula Frick from [uto].
lingua del corso: inglese (saranno disponibili tutor di supporto ma è richiesta una conoscenza di base della lingua unglese).
E' indispensabile una conoscenza di base nella modellazione in Rhino (equivalente a Rhino training Level 1 – la documentazione per il training è disponibile gratuitamente all'indirizzo: http://download.rhino3d.com/download.asp?id=Rhino4Training&language=it) e nell'uso di Grasshopper (la suddivisione di una superficie NURBS in isocomponenti viene data per assodata)
Software utilizzati:
. Rhinoceros v4 SR9 o v5
. Grasshopper – ultima versione disponibile (scaricabile da http://www.grasshopper3d.com/)
. gEco – Grasshopper-Ecotect live communication components
. SSI for Oasys GSA – calcolo strutturale
I partecipanti dovranno presentarsi muniti del proprio laptop con i software già installati. Saranno comunque disponibili versioni di prova di Rhinoceros.
Quote d'iscrizione (max 20 posti):
educational* : € 280.00 + iva
professional: € 450.00 + iva
* studenti, docenti, ricercatori, dottorandi e laureati fino a un anno dalla data di laurea
OFFERTA EARLY BIRD SPECIAL:
le prime 5 domande di iscrizione pervenute entro il 31 Dicembre 2011 avranno diritto ad una quota di iscrizione scontata del 20%
Quote d'iscrizione E.B. SPECIAL (max 5 posti iscritti entro il 31/12/2011 ):
E.B. SPECIAL educational* : € 224.00+ iva
E.B. SPECIAL professional: € 360.00+ iva.
Il corso sarà attivato con un minimo di 12 partecipanti.
Luogo : Studio Rizoma, via della Grada 11, Bologna
Orario : 09.00-18.00.
per iscrizioni compilare il form on-line; per chiarimenti sulle iscrizioni scrivere a lab@nowhere.it
per info sul workshop: info@co-de-it.com
flyer: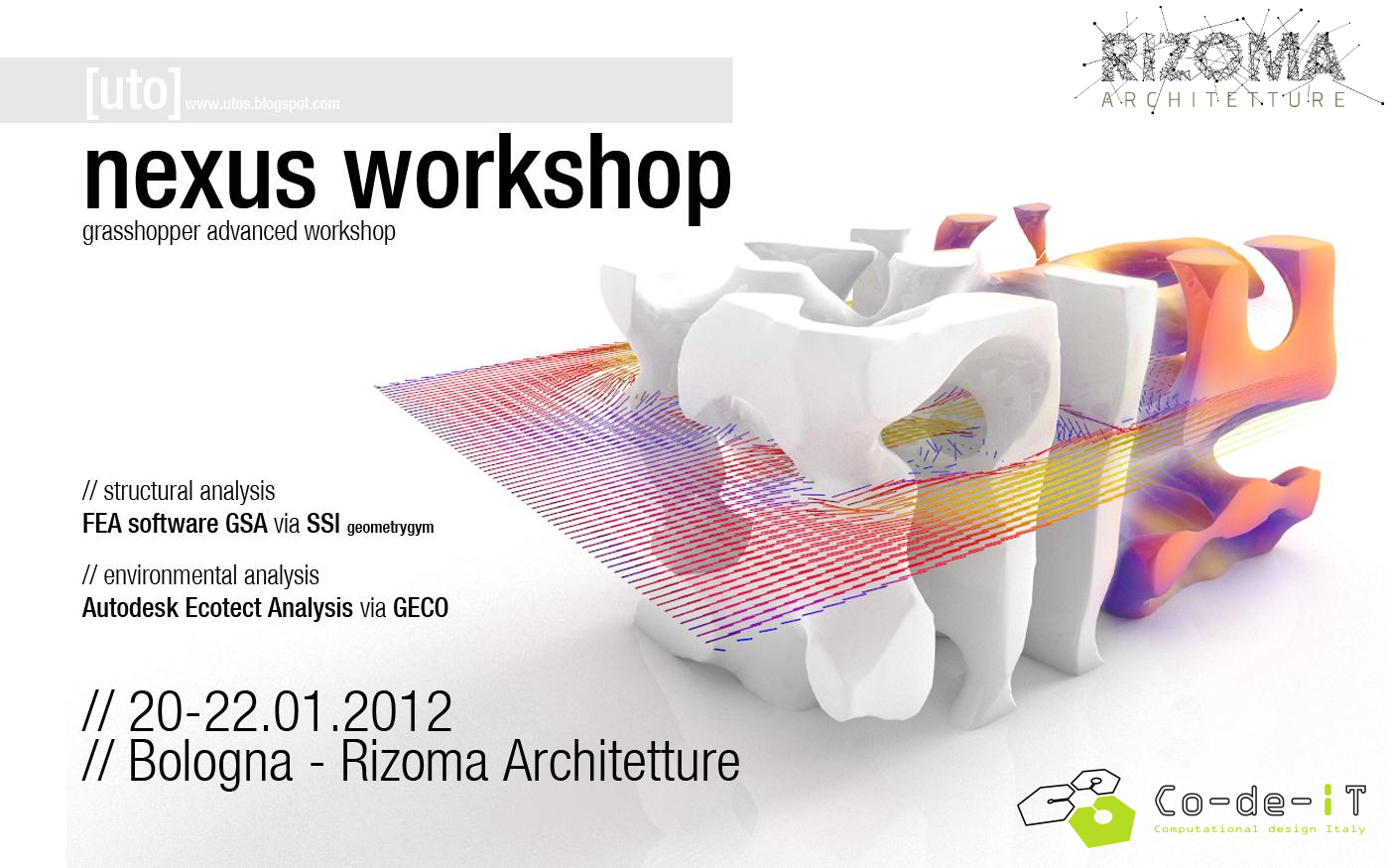 image © [uto]