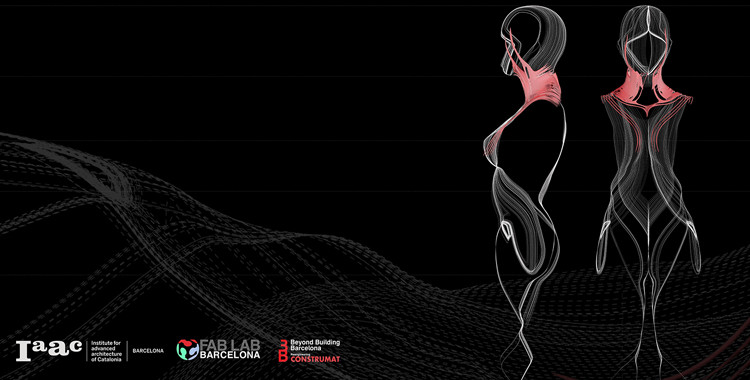 computational couture
Grasshopper + fabrication workshop
BEYOND | Pavilion of innovation – Barcelona – 19-23 May 2015
http://beyond.iaac.net/?page_id=1046
---
[.] Brief
Clothes can be considered as the very first form of mediators between body, space and events. Condensing in their aesthetics not only the evolution of its relation to the physical functions of the body (movement, protection, temperature regulation) but also the evolution of cultural expression precisely by exceeding the purely indexical performative relations. Designing not only for the needs but for the desires.
Computational couture looks at the creation of exclusive custom-fitted clothing (typical of haute couture) through the lens of a systemic approach, extending the sartorial techniques with 3D modeling and computation-based approaches developed in Rhinoceros and the visual programming environment Grasshopper.
Aim of the workshop is to exert, infuse and expand the sartorial sensibilities to body proportions and dress making into an algorithmic approach that loops through design and fabrication by means of laser cutting and 3d printing for the design and production of a garment.
Participants will be divided in teams focusing on specific aspects of the garment related to the production technique (laser cutting or 3D printing).
---
[.] Schedule
.:. day 1

Introduction to algorithms and computational design for creative disciplines
Basics of 3D modeling in Rhinoceros
Basics of Grasshopper
Introduction to basic sartorial techniques
.:. day 2
Testing design options for the dress in Grasshopper (tutored work)
.:. day 3
Fabrication session
. file preparation
. parts testing and pre-assembly
.:. day 4
dress fabrication and assembly
.:. day 5
finalization of dress
final presentation
---
[.] Tutors
Alessio Erioli (Co-de-iT), Lidija Stanojcic (fashion designer), Anastasia Pistofidou (FabLab Barcelona)
---
[.] Requirements
The workshop is open to all participants, no previous knowledge of Rhinoceros, Grasshopper or tailoring techniques is required (although an introductory knowledge is welcome). Participants should bring their own laptop with a pre-installed software. The software package needed has no additional cost for the participant (Rhino can be downloaded as evaluation version, Grasshopper and plugins are free). These softwares are subject to frequent updates, so a download link to the version used in the workshop will be sent to the participants a few days before the workshop.
---
 [.] Registration and fees
FEE FOR PARTICIPANTS
Early bird (until 4/5): 250 €
Full fee (from 5/5 until 15/5): 350 €
The fee includes materials and fabrication. Plane tickets and accommodation are not  included in the fee.
REGISTRATION (until 15/5/2015)
For registration please e-mail at: beyond@iaac.net
---
for further info click here