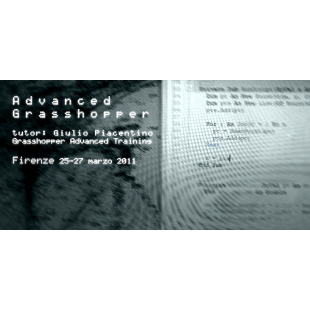 Advanced Grasshopper workshop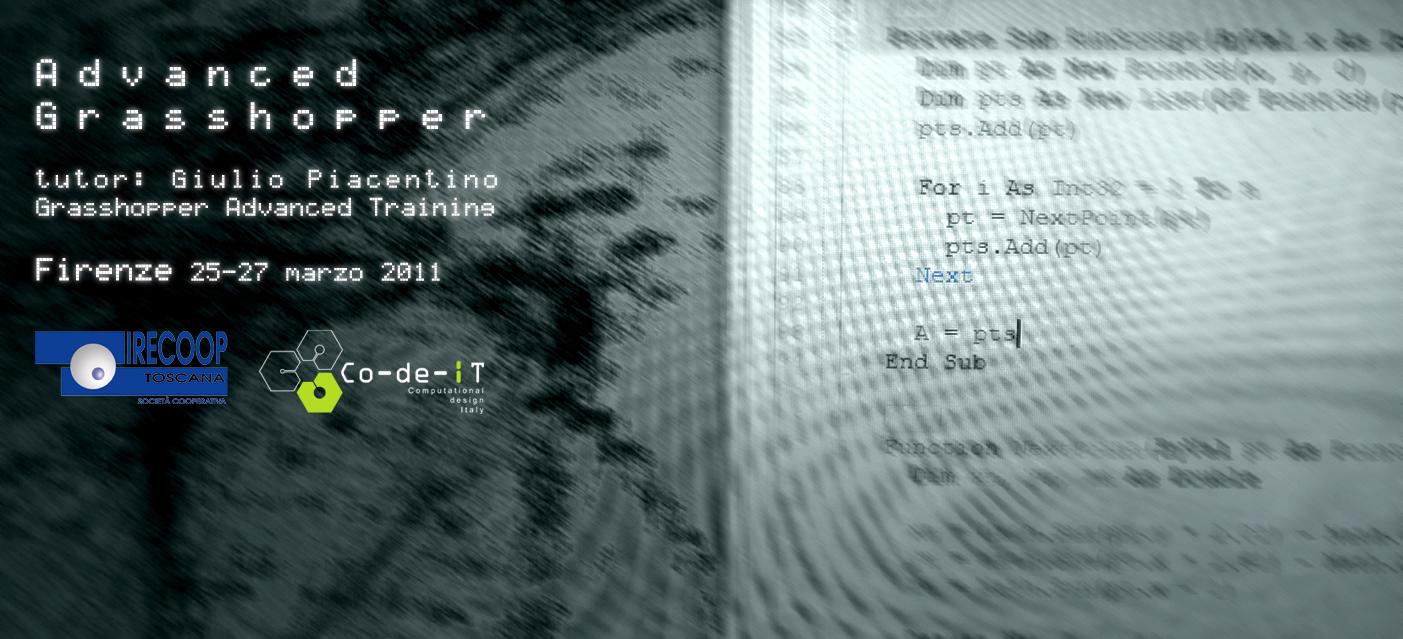 Workshop
Co-de-iT + Giulio Piacentino (McNeel Europe)
Firenze – 43°48'3.34″N 11°14'5.60″E
25-27.03.2011
.
Grasshopper Advanced Training
Advanced Grasshopper workshop
Firenze _ 25-27 Marzo 2011
Tutor: Giulio Piacentino
[.] Descrizione
Si tratta di un corso di scripting basato su RhinoCommon e sul suo utilizzo all'interno di Grasshopper. Il corso è concepito per consentire all'utente di ottenere di più da questo programma di algorithmic modeling ed ha come scopo quello di introdurre al mondo della programmazione ed sperimentare soluzioni più complesse ed interattive. Verranno anche esplorati modelli di programmazione complessa. Non c'è un linguaggio di programmazione ufficiale in quanto è possibile per i partecipanti utilizzare sia C# che VB.net, e tutti gli esempi verranno forniti in entrambe i linguaggi. Inoltre, sarà illustrato come iniziare a scrivere plugins completi .Net. Infine, ci sarà tempo per esplorare le proposte personali dei partecipanti durante il terzo giorno.
Il numero dei partecipanti è fissato a un massimo di 20 per offrire un tutoraggio proficuo ed una effettiva esperienza di learning ad ogni iscritto.
. Giorno 1
Mattina: introduzione alla programmazione in .Net
. Grasshopper scripting components. Scegliere un linguaggio .Net. Sviluppi del linguaggio
. Dichiarazione di variabili, assegnazione e utilizzo. Operatori. Metodi [funzioni]. Chiamate
. Classi: dichiarazione e istanziazione. Costruttori. Importare un namespace. On3dPoints, OnLines
. Arrays: dichiarazione e utilizzo. Liste. Aggiungere ad arrays e liste, vantaggi e opportunità
Pomeriggio: patterns
. OOP (object oriented programming) e programmazione procedurale. Discussione.
. Esempio di bun riuso di codice OOP: ordinare punti per coordinate usando le classi .Net SDK
. Liste come parametro di input. Trees come parametro di input. Uso e limitazioni
. Trovare risorse on-line attraverso siti che aiutano ad iniziare e forniscono un troubleshooting di base. Anche libri.
. Giorno 2:
Mattina: estendere le funzionalità di Grasshopper con le nostre definizioni
. Immagazzinare dati tra updates. Uso dei campi [globals o static locals]
. Esempi di come usare dati salvati tra updates: una semplice simulazione di agenti.
. Baknig di geomatrie attraverso lo scripting direttamente nel documento di Rhino. Baking con nomi
. Passare tipi custom da uno scripted component all'altro. Riusabilità del nostro codice
. Renderizzare un'animazione da Grasshopper. Come iniziare e risultati finali
Pomeriggio: customizzare i nostri tools
. Il nostro Rhino plug-in con Visual Studio C# [Vb.Net] Express Edition e il Wizard. Meshatore parametrico
. Scrivere un componente custom per Grasshopper: hacking di un exporter per i nostri dati verso Excel
. Giorno 3
Intera giornata: progetti personali
. Ripasso su qualunque esempio dai primi 2 giorni. Un progetto personale da cominciare, sia esso un Rhinoceros plug-in, un Grasshopper assembly o uno script. Gli esempi potranno inviare dati attraverso la rete via UDP a Processing (www.processing.org)
[.] English description
This is a scripting course based on RhinoCommon and its utilization within Grasshopper. It is designed to allow the user to accomplish more with this algorithmic modeling program and has the goal to enter the programming world and tinker more complex, interactive solutions. We will also explore advanced programming paradigms. There is no class official programming language, as both C# and Vb.Net are possible on the participant's side, and all examples will be provided in both C# and Vb.Net. Additionally, we will see how to get started writing full .Net plug-ins. Finally, we will have time to explore user's own proposals on the third day.
The participants number is established to a maximum of 20 people in order to ensure a fruitful tutoring as well as a consistent learning experience to all participants.

Day 1 Morning: programming introduction in .Net
• The Grasshopper scripting components. Choosing a .Net language. Language developments
• Variables declaration, assignment and utilization. Operators. Methods [functions]. Calls
• Classes: declaration and instancing. Constructors. Importing a namespace. On3dPoints, OnLines
• Arrays declaration and usage. Lists. Adding to arrays and lists, advantages and opportunities.
Afternoon: patterns
• About OOP (object oriented programming) as opposed to procedural programming. Discussion
• Example of OOP good code reuse: sorting points by coordinates using the .Net SDK classes
• Lists as input parameters. Trees as input parameters. Usage and limitations
• Finding resources: on the net with website that can help getting started and troubleshoot. And books
Day 2 Morning: extending Grasshopper functionality with our definitions
• Store data between updates. The use of fields [globals, or static locals]
• Examples on how to use stored data between updates: a simple agents simulation
• Baking geometry with scripting directly into the Rhino document. Baking with names
• Passing custom types from a scripted component to another one. Our own code reusability
• Rendering an animation from Grasshopper. How to get started and final results
Afternoon: customizing our tools
• Our Rhino plug-in with Visual Studio C# [Vb.Net] Express Edition & wizard. Parametric mesher
• Writing a custom Grasshopper component: hacking an exporter for our data to Excel
Day 3 All day: personal project
• Rehearsal on any example from the first two days. A project that you want to start on your own, being it a Rhinoceros plug-in, a Grasshopper assembly or a script. Example might be to send data through network with UDP to Processing (www.processing.org)
[.] Dettagli :
Tutor: Giulio Piacentino
lingue/language: il corso potrà essere svolto in italiano, italiano con traduzione in inglese o interamente in inglese in funzione della provenienza dei partecipanti.
The course language could be Italian, Italian with English translation or entirely in English according to the participants provenance.
. requisiti minimi:
Una buona conoscenza di Grasshopper è obbligatoria. E' necessario un livello che corrisponde al programma del corso Grasshopper 101. Esempi di cose che non saranno trattate durante il workshop: ordinare sfere per diametro, pannelizzazione di una superficie attraverso componenti di Grasshopper. SI presume che queste conoscenze siano assodate.
. minimum requirements: A good foundation of Grasshopper visual programming is mandatory. You will need a level which corresponds to the Grasshopper 101 course outline. Examples of things that will not be covered in this course are: sorting document spheres by diameter, paneling of a surface with grasshopper components. You are expected to already know these from the Grasshopper course.
. luogo:
IreCoop – via Vasco De Gama 27 _ Firenze
. durata:
25-27 marzo 2010 – 3 giornate consecutive _ orario 9:00 – 18:00
. costo (IVA inclusa):
professionisti – 595.00 €
educational* – 300.00 €
* studenti fino a 1 anno dalla laurea, dottorandi di ricerca, ricercatori e docenti;
. note:
scadenza iscrizioni: 21 marzo 2010
il corso sarà attivato con un numero minimo di 15 iscritti
al termine sarà rilasciato un attestato di frequenza
gli iscritti dovrano venire muniti dei propri laptop con software installato.
una versione free per 30 giorni è disponibile sul sito www.rhino3d.com
. contatti:
iscrizioni + info alloggi: www.irecooptoscana.it (Cosa offriamo > formazione > altri corsi) – i links sono sulla home page
info sul corso:      info@co-de-it.com